What is Set for Life?
Set for Life is a unique Australian lottery game drawn daily. When you purchase a ticket in a Set for Life draw, you are entered into 7 consecutive days of draws – that's 7 chances to win!
Set for Life gives you the chance to win $20,000 per month for 20 years*!
Please note: a minimum purchase of TWO games is required. Multi-week purchases are currently not available, however Autoplay is available.
How do I win?
To win Division 1 in Set for Life you need to match your 7 numbers in a single game with the winning numbers for that draw. The 7 winning numbers may be in any order.
Set for Life recently added a new Division 2 prize, where you can win $5,000 per month for one year*!
Winning combinations for each division are shown below. For each game line, only the highest division will be paid out.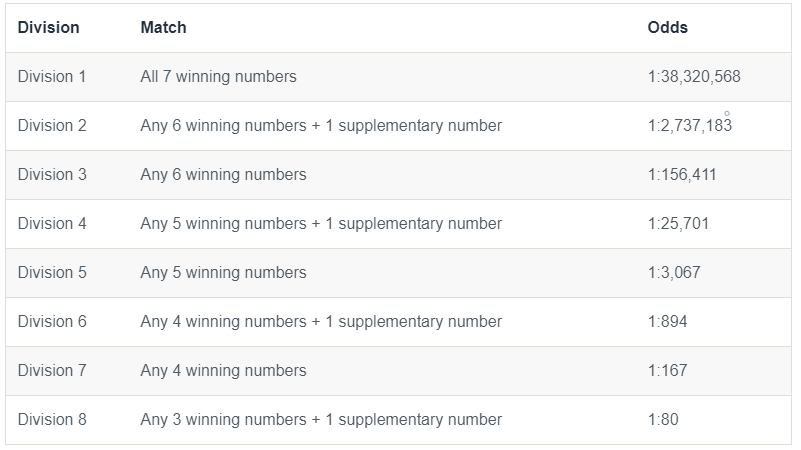 How do I claim my prize?
Your prize payment will automatically be deposited into your www.oz.lotterywest.com account. You can then request to withdraw your funds into your bank account or into your valid PayPal account. All winnings are tax-free.
When does the draw close?
Set for Life draw closes every night at 6:55pm AWST.
What time is Set for Life drawn?
Set for Life is drawn every night at 7:00pm AWST.
When will I get my winnings?
The 15th of every month is when Division 1 winners receive their $20,000 prize money - $20K Day!
Where can I find the results?
You can always review draw results here - Set For Life Results. If you've bought a ticket in the draw, you will receive an email straight into your inbox with the results.
How do I cancel my tickets?
Tickets cannot be cancelled once the initial ticket is drawn. When you purchase a Set for Life ticket, you are purchasing 7 days worth of draws. These numbers are played for 7 days, and entered in the daily Set for Life draws.
*Guaranteed for up to 4 winners. Prize pool shared if there are more than 4 winners.
Should you have any questions or feedback, please don't hesitate to contact our Customer Support on 1300 564 047 or at support@oz.lotterywest.com