You can find more details regarding methods of deposit on the Deposit Funds page.
Remember, you'll need to verify your account before you can begin transacting and playing on oz.lotterywest. Learn more about verification here.
There are five payment options that you have available to add funds and purchase a ticket.
1. Credit Card - Instant
This is an instant payment option and simply requires having access to and permission to use a credit or debit card. Your details will be safely and securely saved for easier and quicker use for later checkouts.

2. PayPal - Instant
This method requires you to have a PayPal account and funds in your PayPal account balance or connected payment sources.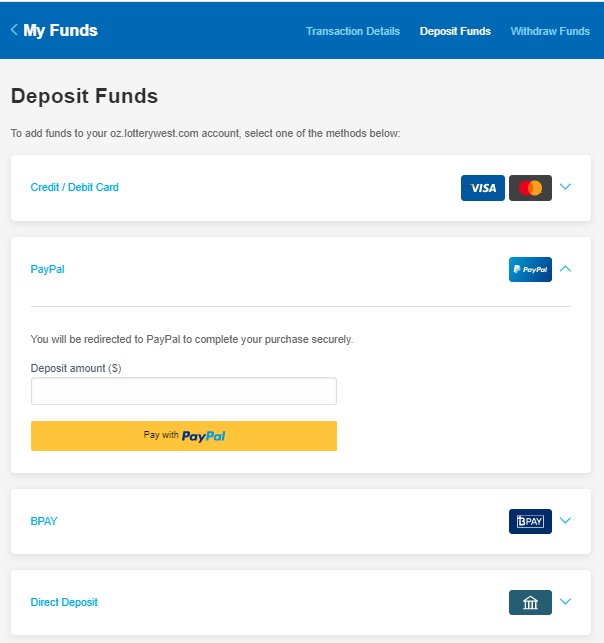 You will then be prompted to sign into your PayPal account.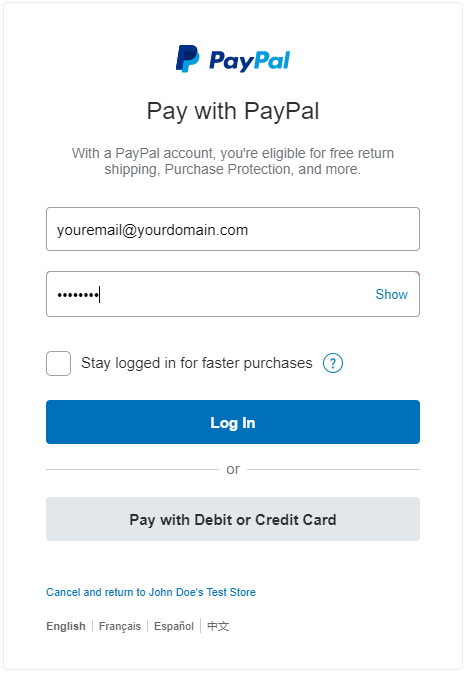 **Please note if you use a Mastercard linked to your PayPal account you will be prompted for your CVC
3. ApplePay - Instant
This method requires you to have an ApplePay account and funds available to use.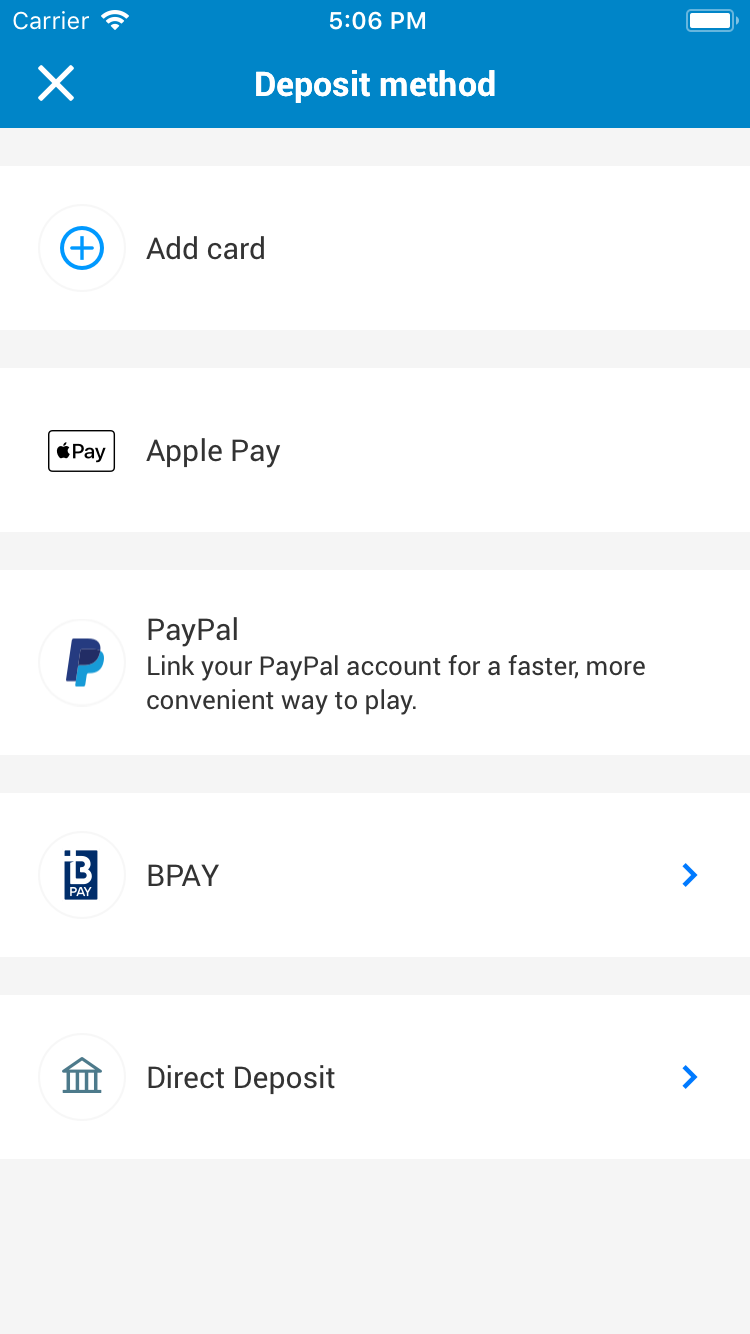 4. BPAY - 1-3 business days
Just like a Direct Deposit, BPAY payments are done through your bank. This is generally done via internet banking. The BPAY details and your personal reference can be found on the Deposit Funds page. You need to include the individual reference number so we can credit your account correctly: https://www.oz.lotterywest.com/my-account/deposit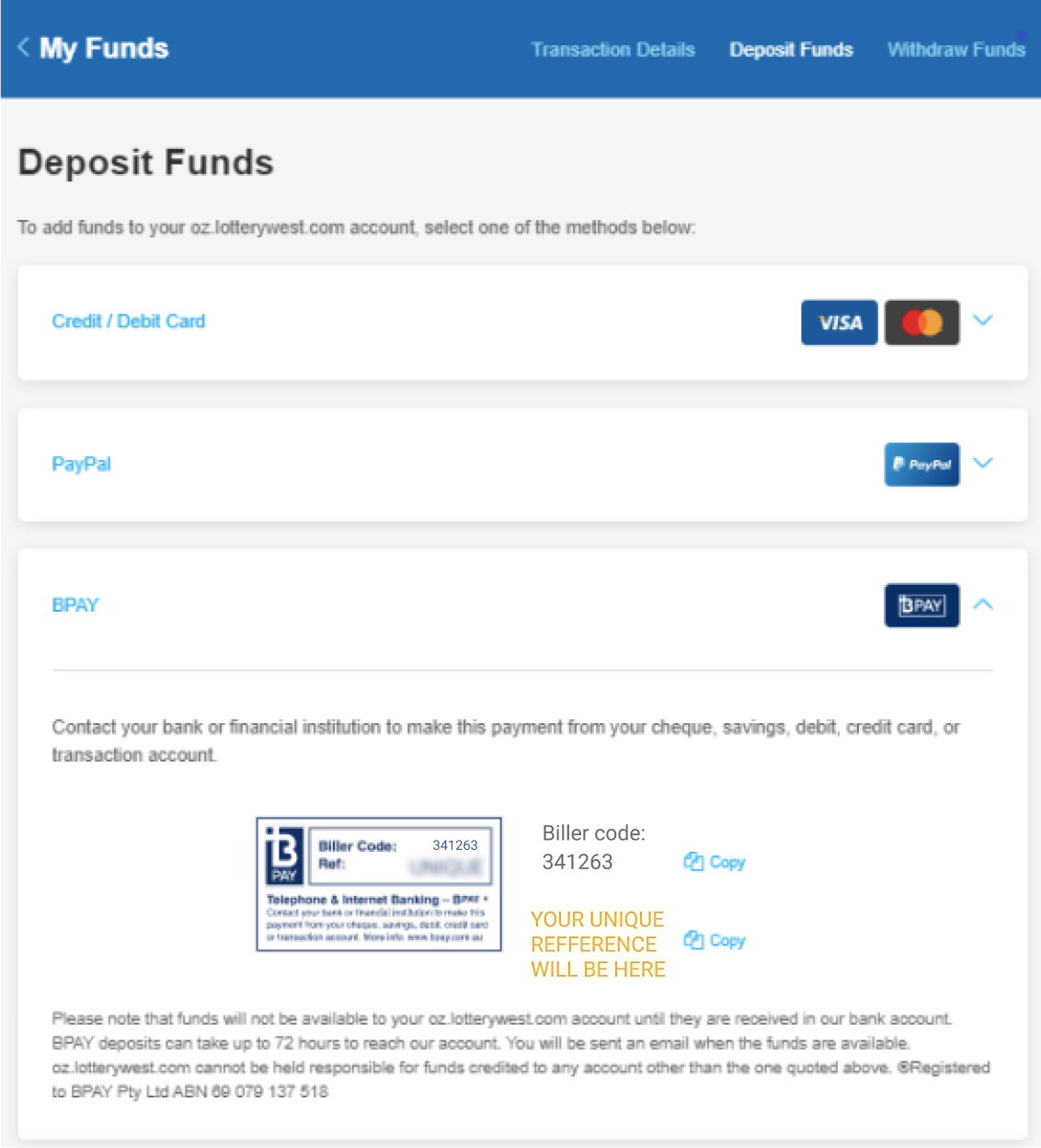 5. Direct Deposit - 3-5 business days
You can also choose to manually deposit funds into your oz.lotterywest account balance from your bank account. Once the funds have been processed and credited to your account, you can then use your balance to purchase tickets. The details can be found in the below picture or on the Deposit Funds page.
Please make sure you put the reference shown on your deposit information. This is personalised to your account and is used to identify which account the funds are to be credited to.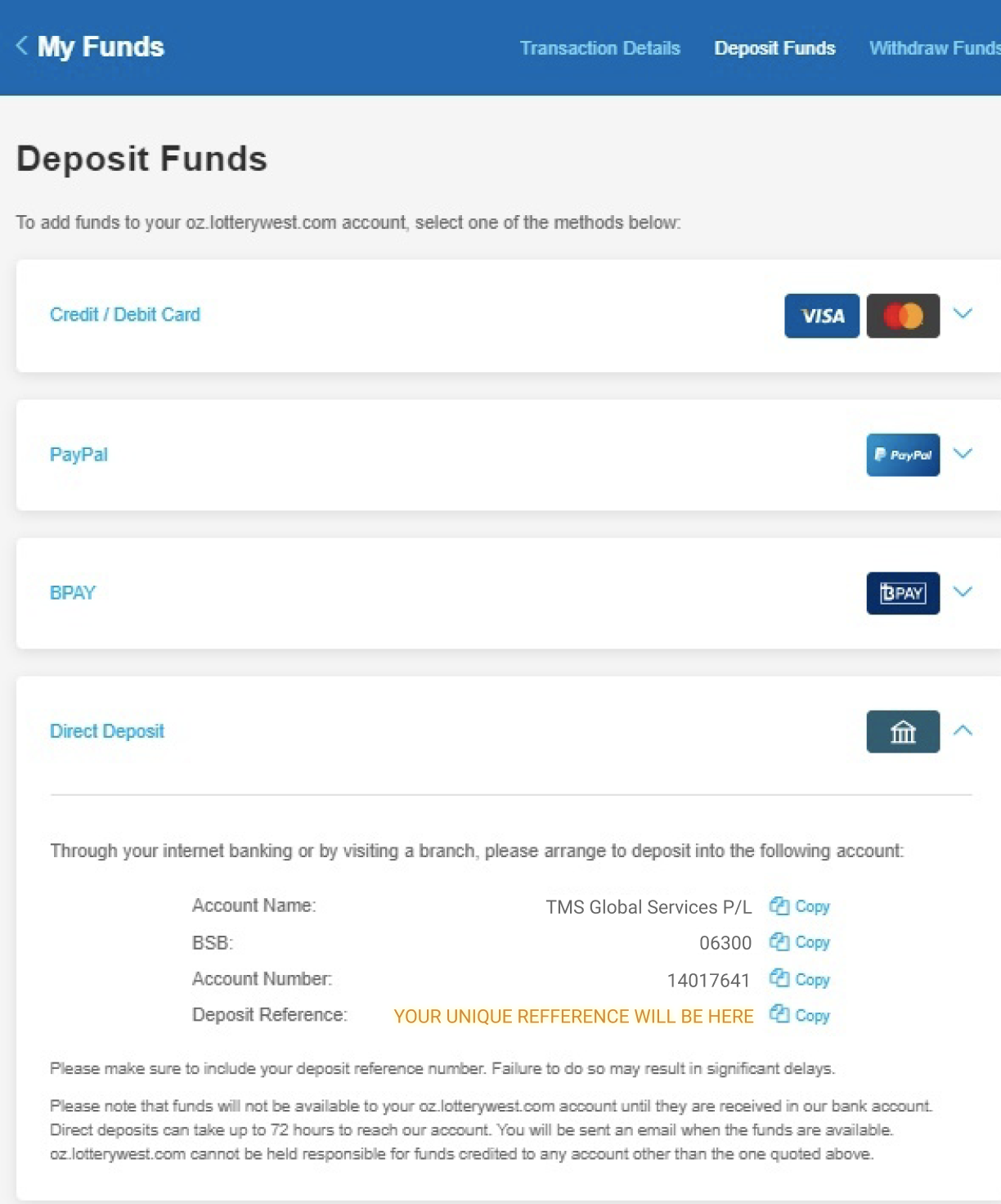 Please note:
We charge no additional fees for your chosen payment method. However, your bank may charge a cash advance fee for credit card purchases, as online gambling purchases may be considered to be a cash withdrawal. If you would like to purchase tickets but avoid cash advance fees, we suggest using an alternative payment method, such as a debit card, or direct deposit or BPAY payment.
Minimum deposit amount
oz.lotterywest has a $5 AUD minimum deposit amount when depositing funds outside of the checkout process.
Any funds remaining after a purchase is processed will be held in your ewallet for future purchases and withdrawals.
Should you have any questions or feedback, please don't hesitate to contact our Customer Support on 1300 564 047 or at support@oz.lotterywest.com